How To Execute the Iconic Cat Eye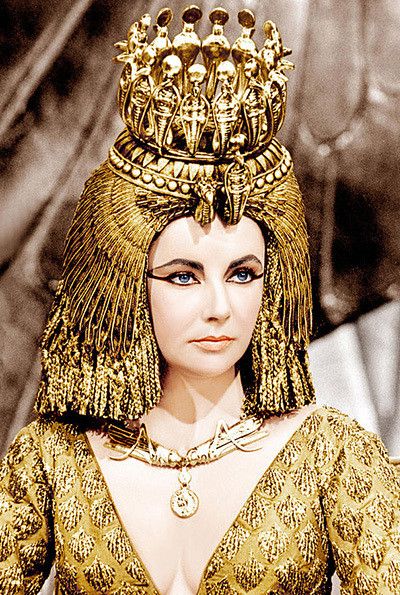 The 'cat eye' or winged eyeliner is not an essential makeup technique for most women…but it's certainly iconic.
Having enough skill and know-how to be able to apply iconic makeup styles can open you up to a whole new range of looks.
One of the most recognisable and diverse looks that you can play around with is the cat eye. Very few looks and makeup styles are as fun, elegant, and multi-functional as Cleopatra's signature eye makeup.
This simple but intriguing style of makeup was first popularised in the 1940's on the floors of swing dance halls. However, its widespread appeal only really exploded when Elizabeth Taylor wore it in the 1963 movie Cleopatra.
Since then, it's been worn and remixed into different iterations,  but all based on a single principle: stylishly extended eyeliner.
Prep is Important…
How do you actually apply cat eye makeup? Some makeup artists will tell you that it all starts with proper prep. The website Stylecraze advises thoroughly cleansing your skin, toning, moisturising, and if necessary using an eye cream or serum to get rid of puffiness and dark circles. But I personally don't give any creedence to the often-touted claim that eye-cream works wonders for puffiness or dark circles! Please don't hold your breath on that one. Dark circles and puffiness are not caused by lack of oil or moisture in the skin and I don't think any 'miracle ingredients' have yet been proven to solve this world-wide problem…well not in my price range anyway.
Instead of considering your skin care (the basics on which should be part of your daily routine anyway), I'd advise just making sure your foundation (and any layers under your eyemakeup) is not too creamy or dewey. A non-creamy or matte-finish foundation will be less likely to make the eyeliner fade, smear, and if you have hooded or deep-set eyes, transfer into your upper eyelids!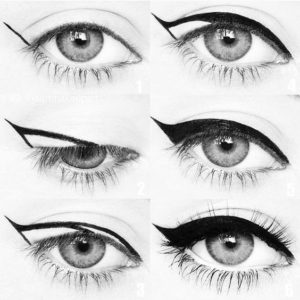 …But Eye-Shape Is Everything!
My main warning with the iconic cat eye is that no amount of eye cream or primer or even waterproof eyeliner will make winged liner more achievable on certain eye-shapes.
Those with almond-shaped eyes will have the best luck with this modernised version of the technique.
If, when your eyes are open and looking straight ahead, your eyelid or lashline is partly obscured by skin (hooded), you may find this technique more difficult than others.
Also if your eyes are very round, with the shape of your lashline arcing to a rounded shape, you may find the 'wing' of your extended liner jumps up in an angle too severe to look natural.If your eye lids are partly hooded like mine are, you may find the end of your winged liner looks like little sticks, disconnected from the rest of the line, since part of the line is obscured by skin.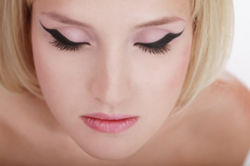 You either have to live with this, OR make the line much thicker where it gets hidden by skin so that when you look straight ahead the fatter part of the line gives the illusion that it meets the thinner eyeliner on the inner half of your lids.
But of course when you look down, the illusion is given away, and you can see the variance in thickness.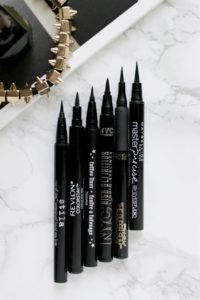 Choose Your Weapon Wisely
Often, a liquid eyeliner with a felt tip pen applicator provides the necessary precision for the job, or a gel eyeliner applied with a thin, angled brush. However any pencil, or applicator will do just nicely, provided you know how to use it. Sweety High even reports that there's an eyeliner with a cat eye stamp on one end, allowing you to instantly define the wings or extensions of your liner!
Start Small and Simple
Start by applying a very thin amount of eyeliner to the inner corner of your eye and slowly work your way outward. At the end, you can either curve the line slightly upwards, angled towards the end of your brow, or start at the edge drawing back the way you came.
Elizabeth Taylor's Cat Eyes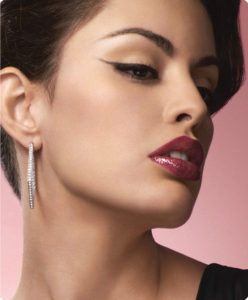 Just like the grandiose sets and extravagant costumes in 1963's Cleopatra, the Egyptian-styled cat eye worn by Taylor's character was instrumental in turning the Egyptian queen into a household name and iconic figure across the globe. So much so that many companies still use Cleopatra to create a connection between their product and extravagance. The Foxy Games digital slot game 'Cleopatra' doesn't even feature the image of the African Queen, yet gamers will be able to imagine her, and her famous cat eyes, due to her place in pop culture.
There are very few figures in history that are as universally recognisable as Cleopatra, and a large part of that is her famous makeup. For many women Cleopatra is a symbol of strength, courage and leadership.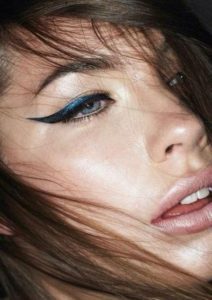 While we all can't be Egyptian Queens, we can emulate power and mystique through the famous cat eyeliner.
Modify Your Cat Eye
Once you're confident that you can do the classic cat eye, start experimenting with colours and different textures or finishes.
More Beauty suggests experimenting with bolder lines, shading, colours, and other embellishments. Most of all, have fun trying out new variations of the cat eye, until you find one that's just right for you!